Posts for: April, 2019
By Family & Cosmetic Dentistry: Samuel Talmer DD
April 19, 2019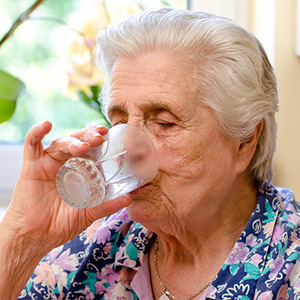 Although not high on the glamour scale, saliva is nonetheless an important ingredient in a healthy life. This "multi-tasker" fluid helps break down your food for better digestion and supplies antibodies to thwart threatening microorganisms coming in through the mouth.
But perhaps its most important role is to neutralize mouth acid that can erode tooth enamel. Without this buffering action, you're at much greater risk for tooth decay and possible tooth loss.
That's why chronic dry mouth is much more than just an unpleasant feeling. If you're not producing enough saliva, your risk for developing tooth decay (and periodontal disease too) skyrocket.
Here are 3 things you can do to avoid dry mouth and promote healthier saliva flow.
Watch what goes in your mouth. Some foods, beverages and other substances can interfere with saliva production. Caffeine in coffee, sodas and other beverages can cause your body to lose water needed to produce adequate saliva. So can alcohol, which can also further irritate dry tissues. And any type of tobacco use can decrease saliva production and heighten the dry mouth effect, another good reason to kick the habit.
Drink more water. Water is the main ingredient in saliva, so keeping yourself hydrated throughout the day helps ensure a ready supply. Drinking water also helps dilute acid concentrations and washes away leftover food particles that could become a food source for oral bacteria, the main source for mouth acid.
Ask questions about your medications. Many medications can trigger chronic dry mouth including drugs to treat cancer, high blood pressure, depression or allergies. If you have chronic dry mouth, talk with your physician about the medications you're taking and ask if there are any alternatives that have less of an effect. If not, drink more water, especially while taking oral medication.
You can also reduce dry mouth symptoms by using a humidifier while you sleep or using products that boost saliva production. And be sure you're brushing and flossing daily to further reduce your risk of dental disease. Managing dry mouth won't just make your mouth feel better—it will help your teeth and gums stay healthier too.
If you would like more information on avoiding dry mouth, please contact us or schedule an appointment for a consultation.
By Family & Cosmetic Dentistry: Samuel Talmer DD
April 09, 2019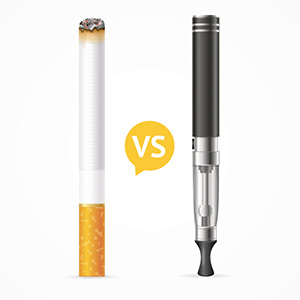 More than 20 million people in the United States use electronic cigarettes or e-cigs as an alternative to tobacco smoking. While many users believe "vaping" is a healthier alternative to regular cigarettes, recent research into the health effects of e-cigs could put a damper on that belief. There's particular concern among dentists that this popular habit could harm users' dental health.
E-cigs are made with a chamber that holds the liquid vaping solution and a heating mechanism to heat the liquid and vaporize it. Users inhale the vapor, which contains nicotine and flavorings, as they would a traditional cigarette.
The nicotine alone can be problematic for dental health as we'll see in a moment. But the vapor also contains aerosols that some research indicates could damage the inner skin linings of the mouth in a similar fashion to the smoke of traditional cigarettes. One study by researchers with the Université Laval in Quebec, Canada found evidence that e-cig vapor increased the death rate of mouth cells, and led to greater cell irregularities over time.
According to other studies, there's evidence that e-cig vapor may disrupt the balance of the oral microbiome, the communities of both beneficial and harmful bacteria that normally live in the mouth. The imbalance in favor of more harmful bacteria could increase the risk for dental disease, particularly periodontal (gum) disease.
Finally, nicotine from e-cigs seemed to create similar conditions in the mouth as it does with tobacco. Nicotine in any form can constrict blood vessels and reduce the body's ability to fight infection and to heal. Research indicates both forms of nicotine increase the risk for dental disease and make treatment more difficult.
These findings only identify conditions created by e-cigs that could be problematic for future dental health. Although we don't fully understand the long-term health effects of this new habit, based on the evidence so far the mouth may not fare so well. It's looking like e-cigs may be no safer for your teeth and gums than the cigarettes they replace.
If you would like more information on the health risks of electronic cigarettes, please contact us or schedule an appointment for a consultation.