Posts for: September, 2020
By Family & Cosmetic Dentistry: Samuel Talmer DD
September 20, 2020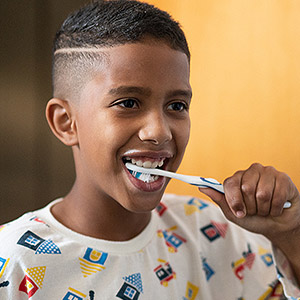 After a long hiatus, school athletes are gearing up for another sports year. Given the pandemic, they may be modifying some of their usual habits and practices. But one thing probably won't change: These young athletes will be looking for every way possible to improve their sports performance. And a new research study offers one possible, and surprising, avenue—beefing up their oral hygiene practice.
That's the conclusion of the study published in BMJ Open Sport & Exercise Medicine, a sister publication of the British Journal of Sports Medicine. Working with a group of about 60 elite athletes, a research group in the U.K. found that improving oral health through better hygiene practices might also boost overall sports performance.
Because there's some evidence that over 50% of athletes have some form of tooth decay or gum disease, the study's researchers wanted to know if there was a link between athletes' sports performance and their dental problems caused by neglected oral hygiene. And if so, they wanted to see if better hygiene might improve sports performance as well as oral health.
Their first step was to establish an initial baseline for the participants with an oral health screening, finding that only around 1 in 10 of the study's participants regularly brushed with fluoride toothpaste or flossed. They then administered a detailed questionnaire developed by the Oslo Sports Trauma Research Center (OSTRC) to gauge the athletes' perception of how their current oral health affected their sports performance.
After some basic hygiene training, the athletes were given kits containing a toothbrush, prescription fluoride toothpaste and floss picks. They were then instructed to clean their teeth twice a day. Four months later, researchers found the number of participants who regularly brushed increased to 80%, and flossing more than doubled. What's more, a second OSTRC questionnaire found significant improvement overall in the athletes' perception of their sports performance.
As scientific research, these findings still need further testing and validation. But the study does raise the possibility that proper dental care could benefit other areas of your life, including sports participation.
Athlete or not, instituting some basic dental care can make a big difference in maintaining a healthy mouth:
Brush twice and floss once every day to remove accumulated dental plaque, the main source of dental disease;
Get a professional dental cleaning at least twice a year to remove stubborn plaque and tartar;
See us if you notice tooth pain or swollen or bleeding gums to stay ahead of developing dental disease.
Improving your dental care just might benefit other areas of your life, perhaps even athletic pursuits. We guarantee it will make a healthy difference for your teeth and gums.
If you would like more information on how you can improve your dental health, please contact us or schedule a consultation. To learn more, read the Dear Doctor magazine article "Daily Oral Hygiene."
By Family & Cosmetic Dentistry: Samuel Talmer DD
September 10, 2020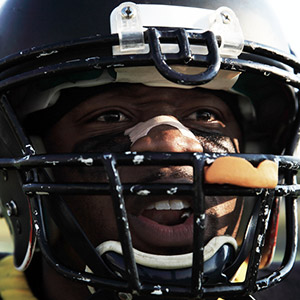 It's September—and that means football season is underway. Whether you're playing, spectating or managing a fantasy team, the action is about to ramp up. Unfortunately, increased "action" also includes injury risk, especially for a player's teeth, mouth and jaws.
Injury prevention is a top priority for all players, whether the pros or the little guys in Pee Wee league. For oral injuries, the single best way to avoid them is by wearing an athletic mouthguard. This soft but durable plastic appliance helps cushion the force of a direct blow to the face or mouth. Wearing one can help prevent tooth and gum damage, as well as lessen the risk for jaw or facial bone fractures.
Mouthguard use is fairly straightforward—a player should wear one anytime there's player-to-player contact. That's not only during game time, but also during practice and informal play. But what's not always straightforward is which type of mouthguard to purchase. That's right: You'll have to decide from among a variety of mouthguards on the market.
Actually, though, most fall into one of two categories: the "Boil and Bite" found in most retail stores with a sports gear department; or the custom mouthguard fashioned by a dentist.
The first are called Boil and Bite because the mouthguard must first be softened with hot water and then placed in the intended wearer's mouth to bite down on in its softened state. When the mouthguard cools and re-hardens, it will retain the bite impression to give it somewhat of an individual fit. These retail guards are relatively inexpensive and reasonably effective in cushioning hard contact, but they can also be on the bulky side and uncomfortable to wear.
In contrast, custom mouthguards are formed from an accurate impression of the wearer's bite taken in the dental office. Because of the individualized fit, we can create a guard with less bulk, greater comfort and, due to their precision, better effectiveness in preventing injury.
A custom guard is more expensive than a retail mouthguard, and younger players may need a new upgrade after a few seasons to accommodate fit changes due to jaw development. But even so, with its higher level of protection and comfort (making it more likely to be worn during play), a custom mouthguard is a worthwhile investment that costs far less than a devastating dental injury.
So, if you or a family member will be hitting the gridiron this fall (or, for that matter, the basketball court or baseball diamond later in the year), be sure you invest in a mouthguard. It's a wise way to ensure this football season will be a happy one.
If you would like more information about dental safety and sports, please contact us or schedule a consultation. To learn more, read the Dear Doctor magazine article "Athletic Mouthguards."