Posts for tag: dental implant
By Family & Cosmetic Dentistry: Samuel Talmer DD
July 28, 2019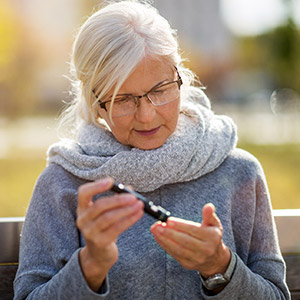 You would love to replace a troubled tooth with a dental implant. But you have one nagging concern: you also have diabetes. Could that keep you from getting an implant?
The answer, unfortunately, is yes, it might: the effect diabetes can have on the body could affect an implant's success and longevity. The key word, though, is might—it's not inevitable you'll encounter these obstacles with your implant.
Diabetes is a group of metabolic diseases that interfere with the normal levels of blood glucose, a natural sugar that is the energy source for the body's cells. Normally, the pancreas produces a hormone called insulin as needed to regulate glucose in the bloodstream. A diabetic, though either can't produce insulin or not enough, or the body doesn't respond to the insulin that is produced.
And while the condition can often be managed through diet, exercise, medication or supplemental insulin, there can still be complications like slow wound healing. High glucose can damage blood vessels, causing them to deliver less nutrients and antibodies to various parts of the body like the eyes, fingers and toes, or the kidneys. It can also affect the gums and their ability to heal.
Another possible complication from diabetes is with the body's inflammatory response. This is triggered whenever tissues in the body are diseased or injured, sealing them off from damaging the rest of the body. The response, however, can become chronic in diabetics, which could damage otherwise healthy tissues.
Both of these complications can disrupt the process for getting an implant. Like other surgical procedures, implantation disrupts the gum tissues. They will need to heal; likewise, the implant itself must integrate fully with the bone in which it's inserted. Both healing and bone integration might be impeded by slow wound healing and chronic inflammation.
Again, it might. In reality, as a number of studies comparing implant outcomes between diabetics and non-diabetics has shown, there is little difference in the success rate, provided the diabetes is under control. Diabetics with well-managed glucose can have success rates above 95%, well within the normal range.
An implant restoration is a decision you should make with your dentist. But if you're doing a good job managing your diabetes, your chances of a successful outcome are good.
If you would like more information on dental care and diabetes, please contact us or schedule an appointment for a consultation.
By Family & Cosmetic Dentistry: Samuel Talmer DD
July 08, 2019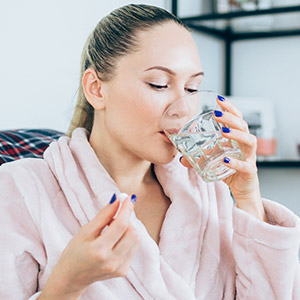 Millions of microorganisms call your mouth home—and while most are friendly, some are not. An invasive procedure like implant surgery can disrupt the mouth's soft tissues and allow disease-causing bacteria to enter the bloodstream.
This isn't necessarily a major concern if your immune system is sound—your body will move quickly to quash any developing infection. But if your body's defense is weak or compromised by other health conditions, an ensuing infection could cause you problems. In the case of a dental implant, a localized infection around it could lead to its failure.
The bone normally grows and adheres to the surface of an implant soon after it's placed, giving it the added strength and durability for which implants are best known. A bacterial infection, though, could impede bone integration and weaken the implant's hold within the jaw.
One way to avoid this is by treating patients at high risk for infection with an antibiotic before the procedure. In one recent study, researchers concluded that patients receiving a 2-gram dose of amoxicillin an hour before implant surgery helped reduce the risk of future implant failure.
But before taking this route, the dentist must first decide whether antibiotic pre-treatment might be more detrimental than beneficial to an individual patient. Antibiotics can cause side effects in certain people ranging from diarrhea to allergic reactions. Healthcare providers must also be prudent with administering antibiotics for the good of society in general—overuse can potentially give rise to antibiotic-resistant bacteria.
A number of healthcare associations highly recommend antibiotic pre-treatment for any dental patient with prosthetic heart valves, a history of infective endocarditis, a heart transplant and similar heart conditions. They also recognize patients with conditions like prosthetic joints, weakened immune systems, diabetics or other serious health problems could also benefit from antibiotic pre-treatment, but leave it to the physician's discretion on whether or not it's appropriate for an individual patient.
If you're planning to undergo implant surgery or a similar procedure and are concerned about infection, speak with your dentist about whether you would qualify and benefit from antibiotic pre-treatment. If appropriate, taking an antibiotic beforehand could minimize your infection risk.
If you would like more information on pre-surgical antibiotic treatment, please contact us or schedule an appointment for a consultation. You can also learn more about this topic by reading the Dear Doctor magazine article "Implants & Antibiotics: Lowering Risk of Implant Failure."
By Family & Cosmetic Dentistry: Samuel Talmer DD
May 09, 2019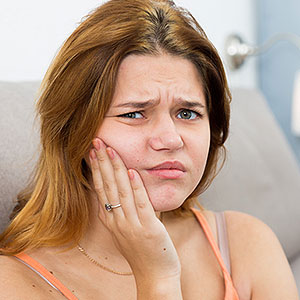 Losing a tooth can be traumatic, but a dental implant can dramatically turn that experience around. Providing functionality, life-like appearance and durability, implants stand out as the premier restoration for lost teeth.
For adults, that is. An older child or teenager with a missing tooth may need to wait a few more years for an implant. The reason: jaw development. A person's jaws, particular the upper jaw, continue to grow with most growth completed by early adulthood. Natural teeth with their periodontal attachments develop right alongside the jaw.
But because an implant attaches directly to the jawbone, its position is fixed: it won't change as the jaw grows and may gradually appear to sink below the gum line. That's why we wait to place an implant until most of jaw maturity has occurred after full jaw maturity. For females, we try to wait until 20 years of age and for males, usually 21 years of age. These are guidelines as some people mature faster and some slower, so a discussion with your dentist or surgeon is necessary to make an educated decision.
While we wait, we can install a temporary replacement for a child's or teenager's lost tooth, usually a partial denture or fixed modified ("Maryland") bridge. The latter affixes a prosthetic (false) tooth in the missing tooth space by attaching it to the back of natural teeth on either side with bonded dental material. It differs from a traditional bridge in that these supporting teeth aren't permanently altered and crowned to support the bridge.
During the time before implants we should understand that the area where the implant will be placed will undergo some bone deterioration, a common consequence of missing teeth. Forces generated as we chew travel through the teeth to stimulate renewing bone growth all along the jawbone. But with a lost tooth the chewing stimulation ceases at that part of the bone, slowing the growth rate and leading to gradual bone loss.
Fortunately, the titanium posts of dental implants stimulate bone growth as bone cells naturally grow and adhere to their surfaces. Before then, though, if the bone volume is diminished, we may need to graft bone material to stimulate bone growth that will enlarge the jaw bone enough for an implant to be placed.
It usually isn't a question of "if" but "when" we can provide your child with an implant for their missing tooth. In the meantime, we can prepare for that day with a temporary restoration.
If you would like more information on dental restorations for teenagers, please contact us or schedule an appointment for a consultation. You can also learn more about this topic by reading the Dear Doctor magazine article "Dental Implants for Teenagers."