Posts for category: Uncategorized
By Family & Cosmetic Dentistry: Samuel Talmer DD
May 09, 2019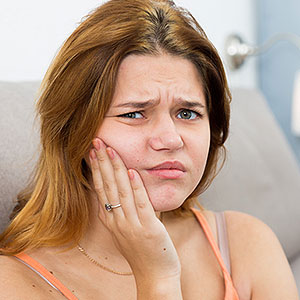 Losing a tooth can be traumatic, but a dental implant can dramatically turn that experience around. Providing functionality, life-like appearance and durability, implants stand out as the premier restoration for lost teeth.
For adults, that is. An older child or teenager with a missing tooth may need to wait a few more years for an implant. The reason: jaw development. A person's jaws, particular the upper jaw, continue to grow with most growth completed by early adulthood. Natural teeth with their periodontal attachments develop right alongside the jaw.
But because an implant attaches directly to the jawbone, its position is fixed: it won't change as the jaw grows and may gradually appear to sink below the gum line. That's why we wait to place an implant until most of jaw maturity has occurred after full jaw maturity. For females, we try to wait until 20 years of age and for males, usually 21 years of age. These are guidelines as some people mature faster and some slower, so a discussion with your dentist or surgeon is necessary to make an educated decision.
While we wait, we can install a temporary replacement for a child's or teenager's lost tooth, usually a partial denture or fixed modified ("Maryland") bridge. The latter affixes a prosthetic (false) tooth in the missing tooth space by attaching it to the back of natural teeth on either side with bonded dental material. It differs from a traditional bridge in that these supporting teeth aren't permanently altered and crowned to support the bridge.
During the time before implants we should understand that the area where the implant will be placed will undergo some bone deterioration, a common consequence of missing teeth. Forces generated as we chew travel through the teeth to stimulate renewing bone growth all along the jawbone. But with a lost tooth the chewing stimulation ceases at that part of the bone, slowing the growth rate and leading to gradual bone loss.
Fortunately, the titanium posts of dental implants stimulate bone growth as bone cells naturally grow and adhere to their surfaces. Before then, though, if the bone volume is diminished, we may need to graft bone material to stimulate bone growth that will enlarge the jaw bone enough for an implant to be placed.
It usually isn't a question of "if" but "when" we can provide your child with an implant for their missing tooth. In the meantime, we can prepare for that day with a temporary restoration.
If you would like more information on dental restorations for teenagers, please contact us or schedule an appointment for a consultation. You can also learn more about this topic by reading the Dear Doctor magazine article "Dental Implants for Teenagers."
By Family & Cosmetic Dentistry: Samuel Talmer DD
December 20, 2018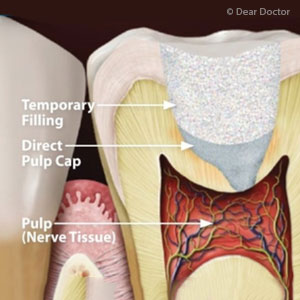 There's one sure thing about tooth decay: you can't ignore it. In fact, the best outcomes result from finding it early and treating it before it enters the pulp in the center of the tooth, often a filling or similar treatment.
If it does advance to the pulp, you may need a root canal treatment to save the tooth. This is a moderately invasive procedure where we access the pulp and root canals, tiny passageways leading to the root and supporting bone. We then remove all the diseased tissue and fill the empty pulp chamber and root canals with a special filling. Later we'll crown the tooth for added protection against future infection or fracture of the tooth.
But there's also another less-invasive method than a root canal called pulp capping. It's only appropriate to use, however, if the pulp has become exposed or almost exposed by decay, but hasn't yet shown signs of disease.
Pulp capping can be either direct or indirect. We use direct pulp capping if the healthy pulp has been exposed by the disease process. We first isolate the tooth from the rest of the mouth to prevent contamination and then proceed to remove all of the tooth's decayed dentin structure. We then apply a biocompatible material directly over the pulp to protect it from further decay and to facilitate healing. We then restore the tooth, usually with a filling, to its proper function and life-like appearance.
When the pulp is threatened by decay but not yet exposed, we may then use the indirect method. In this approach we first remove most of the decayed dentin, but leave a small amount next to the pulp to keep it covered. We then treat this remaining dentin with a material to help it heal and re-mineralize, followed by a temporary filling of the tooth. A few months later we'll remove this filling and inspect the treated dentin. If it has regenerated sufficiently, we remove any remaining decay and permanently restore the tooth.
As we said, pulp capping is only used with patients with deep decay whose pulp tissue is healthy. But when we can use it we can avoid some of the permanent alterations that often come with a root canal treatment and still save the tooth.
If you would like more information on treatments for tooth decay, please contact us or schedule an appointment for a consultation. You can also learn more about this topic by reading the Dear Doctor magazine article "Pulp Capping: A Procedure that May Save a Decayed Tooth."
By Family & Cosmetic Dentistry: Samuel Talmer DD
April 25, 2017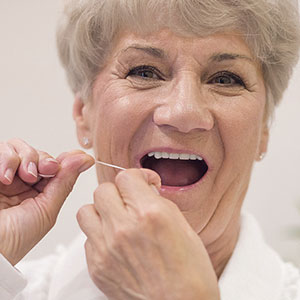 Dental implants can do more than replace individual teeth — a few well-placed implants can support other restorations like a fixed bridge. The natural integration that occurs between the bone and the implant's titanium post creates a strong, durable hold for both implant and the supported restoration.
But if a bone-implant connection weakens, the implant could be in danger of failing. This can occur because of periodontal (gum) disease caused by dental plaque, a thin film of built-up food particles and bacteria on the teeth. Untreated, the infection can ultimately spread from the gums to the bone and cause it to diminish in volume. If the bone loss occurs around an implant the threaded surface of the post may be exposed, inviting more plaque buildup. This can trigger more bone loss and eventually implant failure.
That's why you must brush and floss daily to remove plaque on and around your fixed bridge just as you do your natural teeth. Brushing around a bridge could be difficult with a traditional brush, so you may want to use an interproximal brush designed for just such situations. Be sure any utensil you use contains only plastic parts — metal creates microscopic scratches in the restoration materials that could harbor plaque.
You should also floss between the bridge and gums as well as between any natural teeth. While this can be difficult with traditional flossing methods, there are some tools to make it easier.
One is a floss threader, a small tool with a loop on one end and a stiff plastic edge on the other. With floss threaded through the loop, you gently guide the edged end between the bridge and gums. Once it passes through, you wrap the two ends of the floss with your fingers as you would normally and work it along each side of the nearest implants.
You can also use pre-cut floss sections with stiffened ends to pass through the gap, or an oral irrigator that loosens and flushes away plaque with a pressurized water stream. Just be sure you flush debris away from the gum and not toward it.
Keeping all surfaces of your implant-supported bridgework clean of plaque is necessary for its longevity. Be sure you also visit your dentist regularly for more thorough cleanings.
If you would like more information on oral hygiene with dental implants, please contact us or schedule an appointment for a consultation.